Fuel-efficient and electric luxury vehicles to purchase on Earth Day 2022

Used luxury fuel-efficient vehicles available in Merriam, KS
What fuel-efficient and electric luxury vehicles should you purchase for Earth Day 2022? Keep reading below to learn about our suggestions for finding your next sustainable vehicle here in Merriam, KS. You can find new and used fuel-efficient luxury vehicles here at Aristocrat Motors.
How to find fuel-efficient new and used vehicles in Merriam, KS
It's easy to find our most fuel-efficient vehicles here at Aristocrat Motors. Of course, you can always visit and ask a team member to show you around. However, you can also find sustainable hybrid and electric vehicles from the comfort of your home. If you use our pre-owned drop-down menu at the top of our site, you'll find a link to our used hybrid and electric vehicle inventory. As for our new vehicles, you can view all and then use the filters to find vehicles with a hybrid fuel type or to choose a minimum city fuel economy rating.
What are the benefits of purchasing a pre-owned electric vehicle?
While it is great to purchase any fuel-efficient vehicle, the best you can do for the environment is a pre-owned electric vehicle. We find that there are a few main benefits to choosing this type of vehicle. Check them out.
Pre-owned vehicles are basically vehicles that are getting recycled. By purchasing a used vehicle, you are giving it a second life, which means that fewer materials go to waste.
Electric vehicles have the fewest emissions. In fact, many electric vehicles claim to have zero emissions. The longer they are in use, the more emissions that we save.
Used vehicles are less expensive than new vehicles. This one is a benefit for you, not the environment; however, you can't deny that it's a great reason to buy used.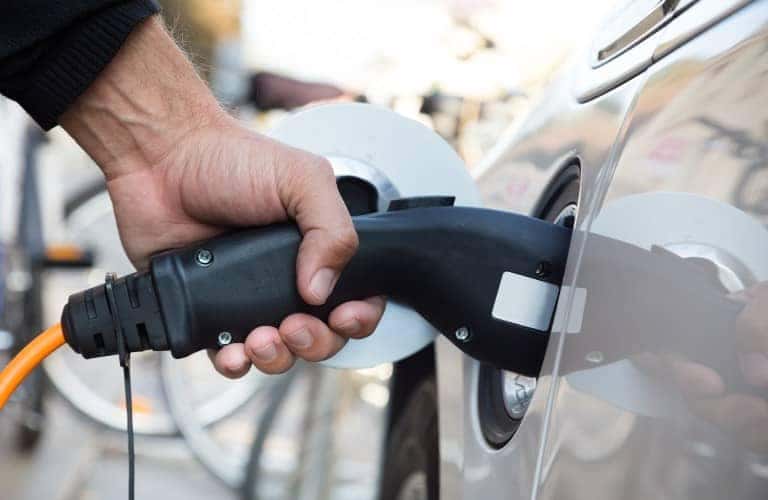 Luxury sustainable vehicles available in Merriam, KS
There are plenty of great luxury vehicles with sustainable materials, low emissions, and good fuel economy ratings. We'll give you a few of our recommendations, but don't hesitate to ask a team member for a more personalized recommendation. These are some great fuel-efficient models you can find here at Aristocrat Motors.
Audi Q5 45 Premium Plus
BMW 4 Series M440i xDrive
Land Rover Defender 110 HSE
Mercedes-Benz GLE 63 S AMG ®
Porsche Taycan 4S