By Editor | Posted in Uncategorized on Monday, December 28th, 2020 at 8:42 PM
When Growing Futures launched in 1965, it was one of the
first Head Start programs in the country. More than 50 years
later, the Johnson County nonprofit is still providing early
education opportunities and family support services to the
community – and the job is only getting bigger, says Director
of Development and Community Relations Jessica Hoffman.
"Poverty has continued to increase," she says. "Right now,
there are over 32,000 people in Johnson County who are
living below the poverty threshold."
More than 3,000 of those Johnson County residents are
children 5 and under, according to United Community Services
of Johnson County data, and thousands more people
earn just over the threshold, which is $21,780 for a family of
three. During the past decade, Johnson County's population
grew by 20 percent, but the number of people living in poverty
increased by 134 percent. While Growing Futures started
by serving 17 preschoolers in 1965, today it serves over 222
kids annually and maintains a waitlist filled with other kids
and families who have need of the nonprofit's services.
A HELPING HAND
Growing Futures is one of several Head Start programs
serving Johnson County. President Lyndon B. Johnson announced
the Head Start program in the same year Growing
Futures was founded, and although offerings have evolved
over the decades, the nationwide program aims to promote
the health and school readiness of infants, toddlers, and preschool-
aged children from low-income families in communities
around the country.
Growing Futures offers numerous programs to address
those needs. Home-based Early Head Start serves pregnant
women, infants, and toddlers up to age 3, providing home
visits and group socialization activities that promote secure
parent-child relationships and supports parents in offering
quality early-learning experiences. Children 6 weeks to 3
years old can participate in the Early Head Start, a program
based on site at Growing Future's Early Education Center.
An on-site preschool program is also available for kids 3 to
5 years old.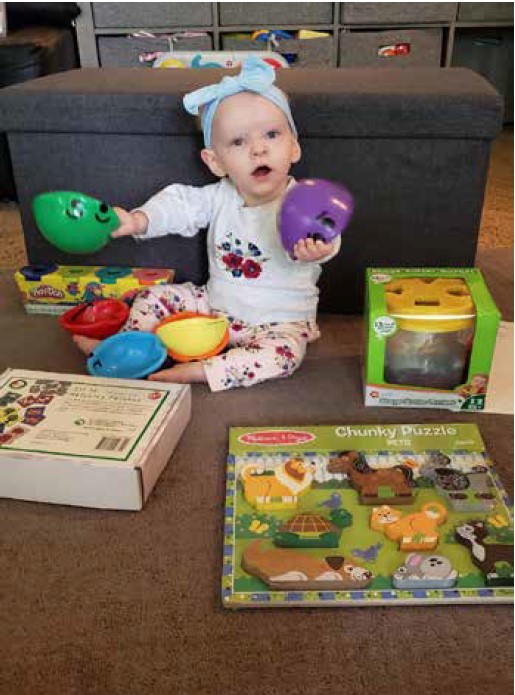 Staff members observe children for mental health or behavioral
concerns and work closely with parents to support
children through consultations, counseling, and play therapy.
Additionally, Growing Futures' disabilities and school readiness
specialists identify kids with disabilities and coordinate
services to help them be successful.

But the organization doesn't just work to help kids – it can
connect participating families with community resources
and support systems, whether they're facing food insecurity
or want help reviewing a resume. Comprehensive family
services also ensure families receive dental exams and vision
screenings.
"They're essentially getting their head start, as well," Hoffman
says of parents.
ADAPTING TO COVID-19
Already contending with increased need in the community,
Growing Futures has been further challenged by
COVID-19. In the spring, the nonprofit shifted its programming
to offer remote virtual learning opportunities to children
and families. Children came back to school in early
September to a hybrid virtual and in-person model.
"We have a phenomenal staff, and they have been very
flexible and very able to pivot on very short notice in these
ever-changing times," Hoffman says. "They've been so
creative and so adaptive."
But the program experience is far from the only facet
of operations affected by the pandemic. Hoffman says
an increasing number of families have been applying to
Growing Futures programs this year as households lose
sources of income. Meanwhile, funding options are becoming
more limited.
Although Growing Futures receives federal funding,
they're responsible for raising more than $400,000 annually
through monetary donations, in-kind donations, or
volunteer hours, which requires support from community
partners, corporate sponsors, and individuals. Grants the
organization normally could have applied for have shifted
to provide more targeted COVID relief, and individual
donors and community partners may be hesitant to make
a donation during a period of such economic uncertainty.
"Donations are slowly trickling in, but it's taking a lot of creativity to host fundraisers now in a virtual climate," Hoffman says. Growing Futures accepts monetary donations online, but there are plenty of other ways community members can get involved, from volunteering on outdoor
projects at the center, to donating supplies on the organization's wish list, which range from classroom items like paper and books to health supplies such as diapers and disinfecting wipes. Growing Futures has also partnered with The Ripple, which Hoffman describes as an online marketplace where people can sell items and have the proceeds go directly to a nonprofit of their choice.
Help is needed now more than
ever as new families continue to apply to Growing Futures' programs, Hoffman says. "We have a waitlist we maintain
of at least 100 children at
all times, so the need is definitely there, and that's leading us to try to grow and expand, as well," she
explains. "We're hoping to launch a capital campaign soon for a new facility."

To learn more about Growing Futures, including how to help, visit growingfutureseec.org.
ABOUT THE AUTHOR
Kelsey Cipolla is a local writer, editor, and social media specialist. Kelsey has covered
everything from the Kansas City culinary scene to home design, health, fitness trends,
hidden gems, and nonprofit in the Kansas City community.